The CRED ad with Dravid has brought celebrity endorsement to be limelight once again. Like it or hate it, you could not ignore it. But are celebrity endorsements used only for making ads noticeable and memorable?
Rahul Dravid's angry tantrum on screen for the CRED Ad has brought celebrity endorsements once again to the limelight. Many liked the ad, and many others did not. But like it or not, one could not ignore it. The ad got more eyeballs through social media than it did through paid media – a brand owner's dream come true. To add to the flattery, we also got a spoof of the ad by Magicpin, reminding us of some of the good old Pepsi-Coke banter that we have come to miss lately.
But are celebrity endorsements used only for making ads noticeable and memorable? In this article, I present my perspective on the role celebrity endorsements can play.
Celebrity endorsement of brands has been existing for decades in India, and for much longer in the West. As per TAM AdEx about a fourth of all TV ads in India in 2020 had celebrity endorsements. These celebrities include movie stars, sportspersons, and TV actors. With the growth in digital advertising and social media advertising, we are now having a whole crop of digital influencers also added to the mix. Celebrities are increasingly preferred for advertisements since they make the ads more noticeable, and more memorable if they have been well-conceived and executed.
But celebrity endorsements are not used only for making ads noticeable and memorable. There are broadly 4 key roles that celebrity endorsements can play for brands:
Break the Communication Clutter
Expert Endorsement
Build Confidence
Establish Brand Positioning
Let me elaborate on each of these in the following sections.
1. Celebrities for Breaking the Clutter
Most celebrity ads fall in this category, where the celebrities are being introduced to get customer attention in an otherwise cluttered ad space. As brand owners, you have to get customer attention to your brand within your category, as well as within an overall flood of ads that the customer is exposed to. The use of celebrities is a good way to achieve both objectives.
The mad rush for use of celebrities has made certain categories too crowded with celebrity endorsements. Bath Soaps is one such category that presently constitutes 9% of all celebrity brand endorsements, with 21 celebrities endorsing various brands (Source: TAM AdEx). Some brands in the category such as Lux have grown over the years using a series of celebrities.
Now, as a creative team what do you do when there is already a lot of celebrity usage, and you wish to further break the clutter? You then try something different and unexpected from the celebrity or in the choice of celebrity itself. For e.g. The use of SRK in the Lux ads along with other actresses was a clutter-breaker at the time. Some of these experiments work and some don't, but at least it keeps the brand active in the minds of the customer.
The latest Cred ad series with an angry Dravid, and a Zumba-loving Jackie is an example of this. You may like them or not, but they did get your attention, and probably also made you curious about the service.
2. Celebrities as Experts
There are brands that have used celebrity experts from their specific business line brilliantly as experts to establish and grow brands.
Nike is a great example of this strategy. For different product lines, Nike carefully chooses celebrities that not only endorse their brands but actually use them in sporting events. They go to the extent of developing the product such that it helps the athlete perform better in their sport. Nike Founder Phil Knight's memoir Shoe Dog is full of stories about how Nike worked with sportspersons to help them perform better because it was important for the brand. Picture this – in 1978, Jon Anderson won the Boston Marathon, Jimmy Conners won Wimbledon and the U.S. Open, Henry Rono set four track and field records – all Nike celebrity endorsers prominently wearing Nike shoes developed especially for their sport. To this day Nike follows this strategy successfully.
The use of celebrity chefs such as Sanjeev Kapoor (Wonderchef), Ranveer Brar (Philips Kitchen Appliances), Vikas Khanna (Usha Kitchen Appliances, Gadre Marine Exports), etc. also falls in this category where the fitment of the celebrity with the category is very good. Why even Manforce Condoms selection of Sunny Leone for endorsement can be considered a great choice of an expert.
3. Celebrities for Confidence Building in Brand
If you are a relatively unknown brand in a category dominated by big companies, or in a category that needs to be popularised, celebrity endorsements can help give the brand the push it requires.
Byju's has used SRK very well to achieve this. Even if Byju's had developed great ads highlighting their course content and student success using their platform, it would not have got the success SRK got it in such a short time. The presence of SRK gave it legitimacy – the customer's confidence in its product that it wanted.
Celebrities can also be used to gain customer confidence in new markets where the brand is relatively unknown. For e.g., Hyundai's use of SRK extensively during the launch of Santro was important at that time to establish the brand. Based on the success of the association, Hyundai has continued to work with SRK, having moved him to support new brand launches such as i10, Elantra and Creta.
Celebrities can also be used for regaining lost confidence or for improving the trustworthiness of brands. Take Sonu Sood as a celebrity for example. Since April / May 2020, Sonu Sood has created quite a reputation for himself as a messiah for the poor helping them during covid times. Brand endorsement by someone like him can also help brands enhance their reputation or regain lost trust. This is perhaps the reason why social media-battered brand like WhiteHatJr has signed up Sonu Sood for endorsement.
4. Celebrities for Brand Positioning
The use of celebrities for establishing brand positioning is among the toughest use of celebrities. This requires clear definition of the customer persona and clarity of the specific campaign before the celebrity is chosen. Brands that have successfully used celebrities for brand positioning have done that.
Luxury and fashion brands have been the most successful and prominent in using celebrities for positioning. Luxury watch-maker Omega has used celebrities such as Cindy Crawford, Daniel Craig, George Clooney, Nicole Kidman etc. who have global appeal and are known for their fashion sense to establish the brand globally. Many other luxury brands such as Bulgari (Weisz, Julianne Moore), Estée Lauder (Elizabeth Hurley), Dior (Monica Bellucci), Tag Heuer (Cameron Diaz, Uma Thurman, Shah Rukh Khan), etc. have used celebrities for establishing the brand positioning.
Nike's use of sporting brand ambassadors selectively and not just for ads but for also use in actual sporting situations is also a brilliant example of how celebrities can be used for positioning. Unfortunately, though such examples are very rare though advertisers want us to believe otherwise.
As you see, there are various roles that a celebrity endorsement can play. If the brand owner has clarity on the role that the celebrity is expected to play, the outcome is beneficial to the brand and the communication outcome is cherished by the audience. Most times though, the decision to go for a celebrity is not very well thought-through and hence fails to make an impact. That is the reason why examples of celebrity endorsements supporting strong brand positioning are hard to come by.
Come back to the CRED Dravid ad, my personal view is that it is a great use of the celebrity. Though the script seemed fitted in, the ad served its purpose of getting our attention (the rest depends on the product). But have they got the series right? I do not think so. The Jackie Shroff ad in the series is a big let-down. And I happened to see the Cred Audition "Not Everyone Gets it" series using Anil Kapoor, Madhuri, Bappi Lahiri etc. And I agree with the characters in the ad – do ONLY the voiceover, please.
Any views or opinions represented in this blog are personal and belong solely to the blog owner and do not represent those of people, institution or organizations that the owner may be associated with in professional capacity, unless explicitly stated.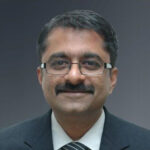 A strategy consultant since 2006, Santosh advises clients in a wide range of sectors including consumer, agribusiness, automotive, chemicals, and private equity. Prior to Consulting, Santosh has spent about six years in brand management and sales with leading Indian FMCG companies - Amul and CavinKare.