This article analyses the booming 2W EV market in India, from the future demand-supply aspects and establishes the need for Indian OEMs to expand globally for their growth. The article also elaborates the areas which need to be evaluated while entering the global markets.
Look Beyond India for EV Opportunity: 2W EV Demand Supply analysis and the need for Indian OEMs to target global markets for their growth
It is not an exaggeration to say that currently we are at the inflection point of 2W EV penetration in India – both in terms of supply and demand. Looking at the data, more 2W EVs have been sold in the first six month of 2021 than the entire 2020 (29000 units in H1/21 vs 25000 units in full year/20). The legacy OEMs (such as Hero Electric, Bajaj, TVS) and the new age startups (such as Ola Electric, Ather Energy, Ampere, Okinawa, Revolt, Simple Energy) have been aggressive on their 2W EV plans.
Supply Scenario: Lately, many of these OEMs have announced their plans for the 2W EV. Looking at these plans, especially the investments and capacities, one can say that its overwhelming. A snippet of compiled investments and capacities is as below.
The investment in India 2W EV space has been overwhelming with the projects expected to complete in next couple of years
Planned Investments and Capacity
Considering the above investments (and many others which are not listed), in the next few years India may have installed capacity of about 8 to 10 million units. Even accounting for the modest capacity utilization factors, India may witness supply of about 6 to 8 million units per annum.
Demand Scenario: The domestic demand figures are not as encouraging as the supply figures. We at Avalon Consulting have estimated the in this white paper that the 2W EV demand to be about 1.9 million units by 2025. Multiple other agencies have also come up with their own estimates ranging from 3 – 4 million units of demand by 2025 and about 10 million units by 2030.
Considering current 2W sales of around 20 million units and accounting for a healthy growth rate, in the optimistic scenario India may witness demand of about 2 to 4 million 2W EVs by 2025 and about 10 million units by 2030.
Point to Ponder: Looking critically at the above analyzed figures of supply and demand, in the near future, the 2W EV industry may face an issue of oversupply by 3 to 4 million units. Considering the huge investments for establishing new plants, the OEMs would be looking for their ROIs. However, having an oversupply would cause their plants to run at lower utilization which would affect the ROCE and other metrics, while cost of financing eats into the bottom line. The issues would be more pertinent for the OEMs with large investments funded by debt.
The recently announced PLI scheme of ~Rs 26,000 Cr for auto sector with a primary focus on EV and hydrogen cell vehicles will also act as an impetus for the OEMs to invest in additional capacities.
Hence, the OEMs would need to look at other geographies where they can capture the demand to improve their topline and bottom-line while operating the plants at higher utilization. Leading the pack of OEMs, Ola Electric has already announced their plans of shipping their flagship versions to the US market by as early as 2022.
The other OEMs, both legacy players and new age startups might need to follow similar path. However, the success of their paths would be determined by two key questions
Which markets to target?
How to enter these markets?
More on these points in the forthcoming articles.
Any views or opinions represented in this blog are personal and belong solely to the blog owner and do not represent those of people, institution or organizations that the owner may be associated with in professional capacity, unless explicitly stated.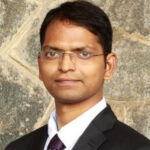 Ramesh has 6 years of experience across automotive, agribusiness and oil & gas sectors. As a consultant he has supported multiple Indian auto OEMs through various engagements. Prior to consulting, he has worked with Bajaj Auto and Reliance Industries. He is a graduate of IIT Madras and IIM Kozhikode. He enjoys long-distance-running and playing badminton.